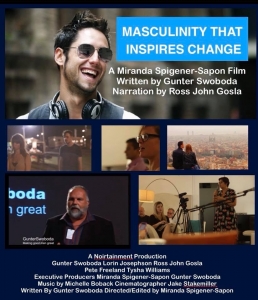 Gunter Swoboda's movement is finally making to television and the big screen.  Masculinity That Inspires Change will debut worldwide on Amazon Prime, May 18, 2018 and a special big screen premiere in NYC on June 2, 2018.
This is a social documentary in that explores what it means to be a Man in the 21st century. It aims to provide a platform for a meaningful conversation to rethink masculinity, to deconstruct assumptions and myths about men.
Check out the PRESS REVIEWS/FEEDBACK on the movement and the film: Santa Monica Mirror  BuzzFeed
The film is directed by Miranda Spigener-Sapon, Written by Gunter Swoboda, Narrated by Ross John Gosla and special Interviews by Pete Freeland and Tysha Williams.
What the first official trailer here:

Santa Monica Mirror video review: