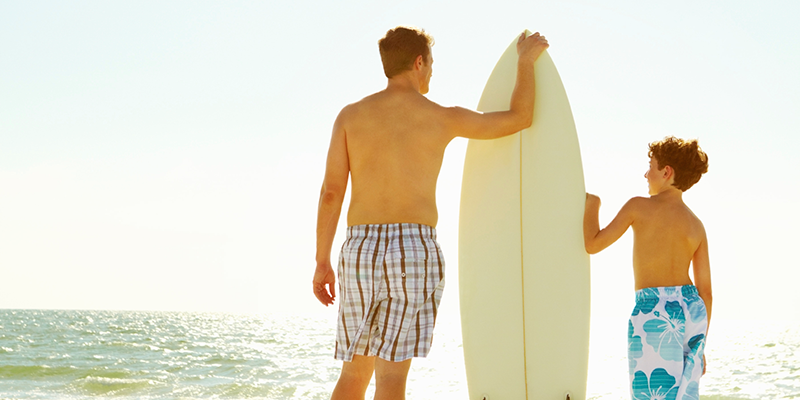 The role of father has changed dramatically in just a couple of generations. The relationship between a father and son can be loving, generous and loyal but it's true that too often it can feel tenuous, combative and at times distant. But it's never too late to evaluate our behaviour as a father and introduce change.
This program is for any father – whether your son is newborn, preteen, teenager or adult – who is looking to be a great father. You may have reached a point where there is distance between you and your son, or perhaps your son is young and you want to arm yourself today with skills to foster mutual respect and harmony in the future.
In order to be a great father we first need to understand our sense of who we are as a man – we need to become self-aware and question how flexible we are and how we are modelling our sons. One of the most important things we can gift our sons is the ability to regulate emotions, to be flexible in how they approach life and to be resilient, but first we need to identify and adopt these qualities within ourselves.
This is a series of three workshops for partnered or single fathers. The three workshops each have three sessions and are:
Awareness – where we raise individual and group thinking to identify the key issues in being a great father.
Alignment – the key in being able to maintain constructive influence in your relationship with your son.
Attunement – where we work on keeping the relationship on track through the changes in your son's development.
The program is also an opportunity for you to take some time out, to reflect on yourself and to think about how you want to move forward in your life as a father. This in turn, will enable you to forge the sort of relationship with your son that lasts over time, and that is driven by reciprocal respect, love and cooperation.
Who this programme is for
All fathers, with a son or sons of any age from newborn through to adulthood.

Any father who wants to improve his relationship with his son.

Any father of a baby or young son who wants to learn skills now to guide their son through challenges.
This program will help you to:
Learn the myths about being a man and a father.

See the masculine paradigm revisited and rethought.

Implement 10 principles to live by.

Learn the principles of being a great man.

Understand fathers as role models and mentors.

Learn the importance of a values-aligned relationship with your son's mother.

Learn how to leave the right legacy for your son.

Understand the difference between being a 'mate' to your son and being a 'dad' to him.

Learn to juggle the different hats you wear.

Learn the importance of values in fathering.

Create attached relationships.

Learn the difference between punishment and discipline.

Fill your toolbox with successful fathering skills.
This programme:
Is held in nine sessions over nine weeks, and is presented in three workshops – each workshop has three sessions.

Uses guided, confidential group discussion.
Groups are limited to 8-10 people.

This program is held in nine sessions over nine weeks.

Cost: $620 per workshop.

Location: Our offices in Mona Vale.
Course:
Aligning Father and Sons
Cost:
$620 per workshop
Duration:
Nine sessions over 9 weeks
My father gave me the greatest gift anyone could give another person, he believed in me.
– Jim Valvano